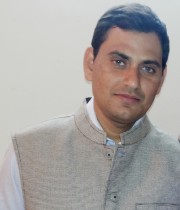 Digital Love is one of the Best & Top Ten (10) Digital Marketing Agencies in India. It blogs about latest online marketing trends, SEO ranking, conversion tips, market research, and actionable lead-gen advice, served up hot and fresh!
Mumbai,India, August 9, 2014 (Newswire.com) - Digital Love offers excellent SEO training courses across India to provide the knowledge of on-page and off page optimization processes to the aspiring Digital Marketing Professionals.
Digital Love is also an internet marketing outsourcing company offering digital marketing services like SEO,SEM,SMO.
JAINENDRA, founder,Digital Love is a holistic thinker who finds extreme joy in merging the power of strategic thinking, customer centric approach, and analytics to drive results; a passion that gave birth to DIGITALLOVE.IN

Digital Love
Digital love has achieved one of the top ranked spot in Digital Marketing Domain in India reported by Alexa.com. Digital love has learned the best knowledge of the latest seo optimization practices used in the search engine marketing industry. Our SEO training methodologies to offer our students with the knowledge of latest practices in the internet marketing process.
On Page SEO Training
Digital Love 's On-page optimization is more than just the keyword stuffing in the pages of website. It uses well-defined latest SEO methodology containing a set of processes or tasks which includes editing and verifying of website development code to be implemented on the actual website to make it search engine friendly.
Digital Love .in houses a team of Industry expert SEO trainers having the best knowledge of these digital marketing processes. We train students on latest and best on page SEO techniques as below;
Meta tags like title tag, header tag,meta description tag and keywords tag are an important part of on page optimization process. We at digitallove.in will teach the best usages of on page optimisation to optimize the website page with these tags.
Optimizing images with title or alt tag is a good practice as to make the images clearly understandable to the users as well as the search engine. At Digital love, we will help you understand how alt tags can be used for effective optimization.
Content plays a very vital role in optimization of a web page. Web page with unique and most relevant content with proper keyword density is given more weightage for ranking than others. In our SEO training we teach students about keyword density, proximity and prominence. We give them a clear understanding of how exactly the content should be optimized for effective results.
URLS of pages in a website should be search engine friendly i.e they should descriptive, obvious with content of web page and should clearly reflect the hierarchy of website structure.
Anchor Text Optimization:
Anchor text is a clickable text included within the <a href> </a> tags. These play an important role in the website optimization process. Digital Love will get to learn in detail about the anchor tags and how effectively they should be used for a good optimizing process.
Off Page SEO Training
Directory submission is a process of getting quality incoming links to the website. For effective directory submission selecting most relevant directories and efficiently choosing the category for submission is necessary.
In a social bookmarking process you submit links of your website to top social websites. This will increase your back links and page rank.
Blog commenting is the process of posting comments for blogs. This attracts the blog readers and also helps increase the relevant and referral traffic to the website. Digital Love .in will teach you the best way to comment on blogs for increasing the search engine rankings of the website.
Forum posting is the process of finding relevant online forums related to the website and then joining the communities on that forum. Communicating with the community through answers to questions posted on forums.
Press Release & Article Submissions
During the SEO training process we will teach how to develop articles and press releases and submit them in relevant directories to attract traffic.
Some businesses may require concentrating on getting the local traffic. For such businesses we can further help by submitting the listing of business on Google Places. Digital Love will teach this process of attracting local traffic for the business through SEO.
Search Engine Submissions
You need to submit your website to various popular search engines like Yahoo, Google etc in order to speed up the process of getting it recognized by the search engines.
Social networking is the process of advertising, marketing and building reputation of a business through social media websites.
Benefits of SEO Training from Digital Love
About Us
Digital Love is a digital marketing Service & Training company based in Bangalore, India serving SMEs with affordable online marketing (SEO, SEM, SMO ) initiatives, which help clients to get found by their prospects; by the way, our clients call us a lead Generation Machine!
Get to learn from experts having real-time industry experience.

Certification will be provided at the end of the training.

Get guaranteed placement assistance at the end of training.

Full support from faculty and management with individual attention provided to each and every student during training.

Regular practical sessions conducted in fully facilitated computer labs.

Study material will be provided.
Share: